Today we would like to introduce the German artist VOLANE! She felt in love with one of our latest products more than one year ago: the MOLOTOW SKETCHER. Why and how she is using the SKETCHER, in what way we cooperate with VOLANE, the VOLANE ART PACK and what she has to say about her art please read in the interview below, supported by photos of her works and a very special unique gadget she invented herself!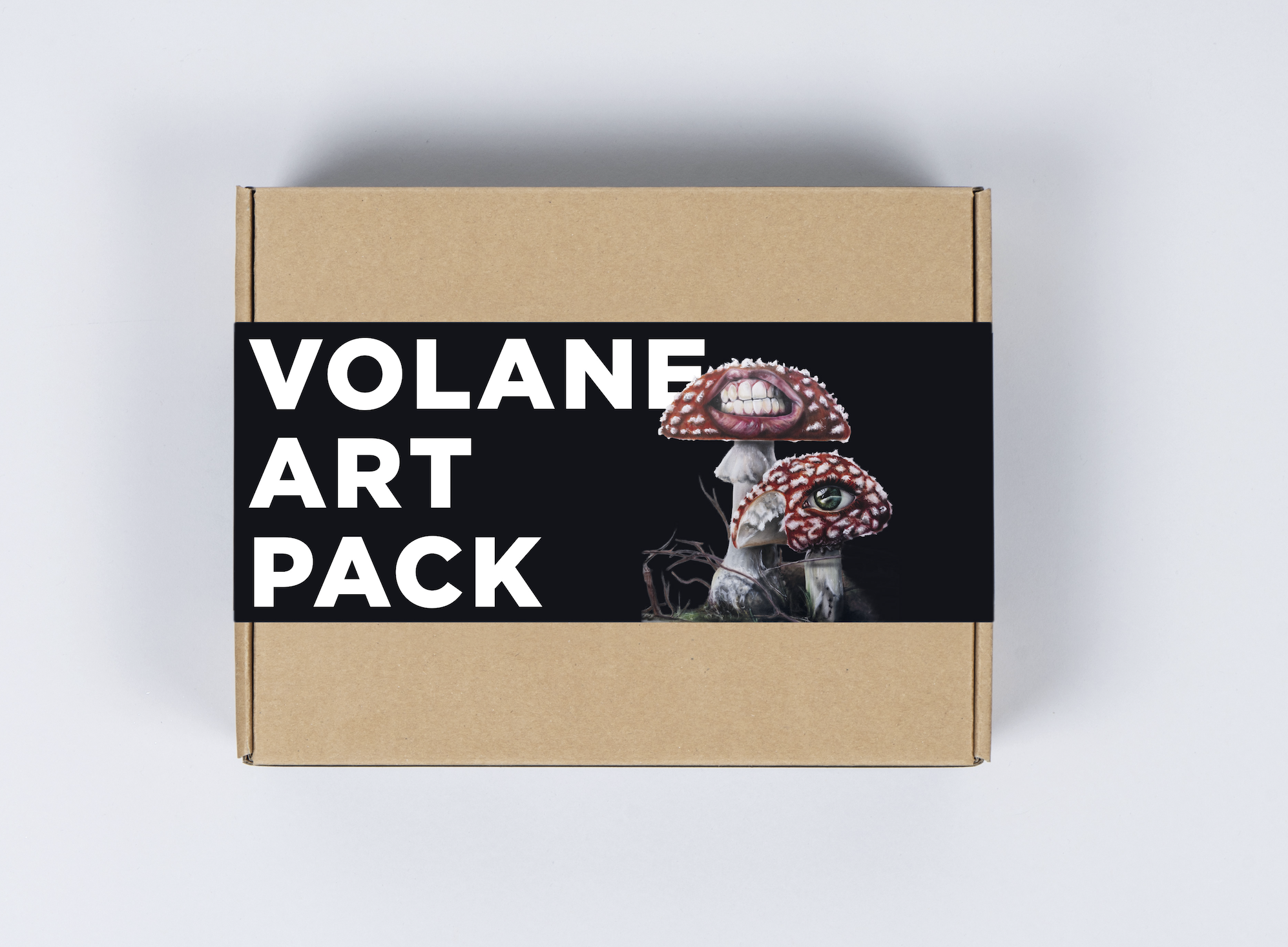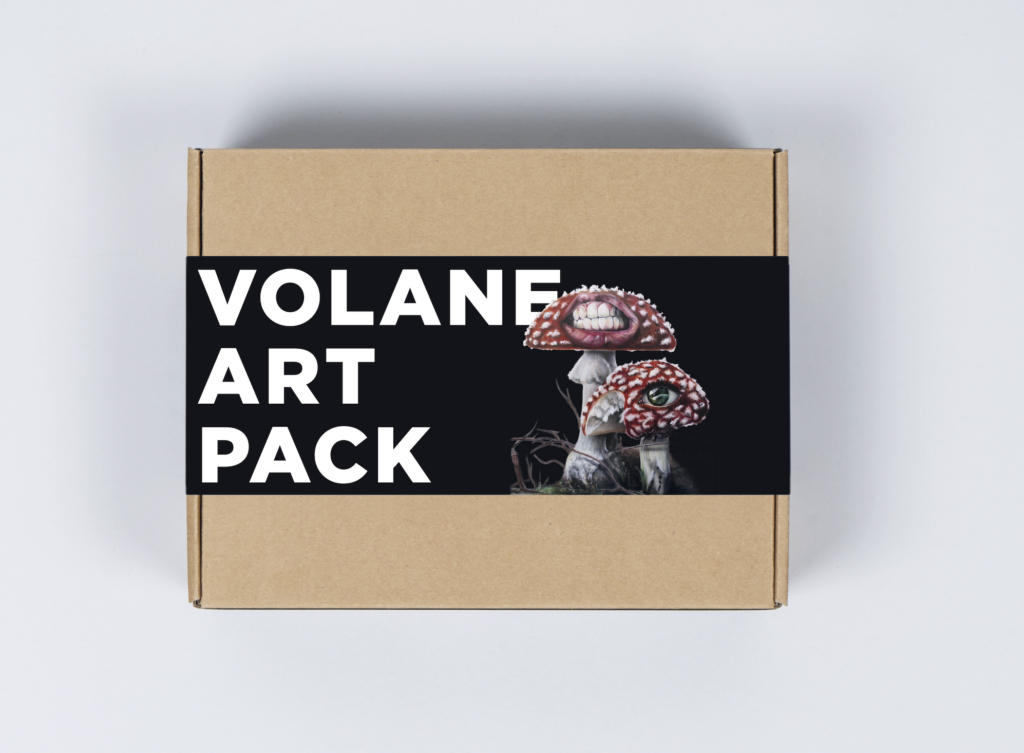 Hello Volane, please introduce yourself briefly
Hey, I'm Maris and I've been working under the artist alias Volane for what feels like an eternity. I was born in 1986 and I´m based in Hessen, Germany.
Where are the roots of your passion for painting? Were you already creative as a child or did you only discover your skills later and develop artistically?
I had a pile of pens by accident and then started to drive away the boredom. Painting has never been a hobby, but always something that I have always and constantly done on the side or even not for years.  You don't have skills as a child. I think something like talent or innate abilities is funny – everyone can learn everything, depending on what ignites his passion. So the fact that I paint as I paint is based only on repeated practice. No more, no less
Which techniques, tools and media do you work with on a regular basis?
It always depends – if I'm working on a canvas, I'll do it either with MOLOTOW COVERS-ALL and the ONE4ALL Acrylic markers or with the SKETCHER. However, when I am illustrating, I like to work with the MOLOTOW Blackliner and the SKETCHER.
Why did you decide to work with partly self-made airbrush guns and what role does the MOLOTOW SKETCHER play in this?
The airbrush gun is not partly self-built, but completely. What sounds like arrogant self-adulation, it may also be because I am really very proud of this gadget. We built the complete part and then, using a 3D printer, brought it to life.
The idea came about because I used to work with other markers – they also had an airbrush system, which I used, but the system was crap and the markers unfortunately too. But the idea of being able to spray with markers is brilliant, so we built our own gun. Similar in idea, but just a tool with which you can create incredible details and wonderful works.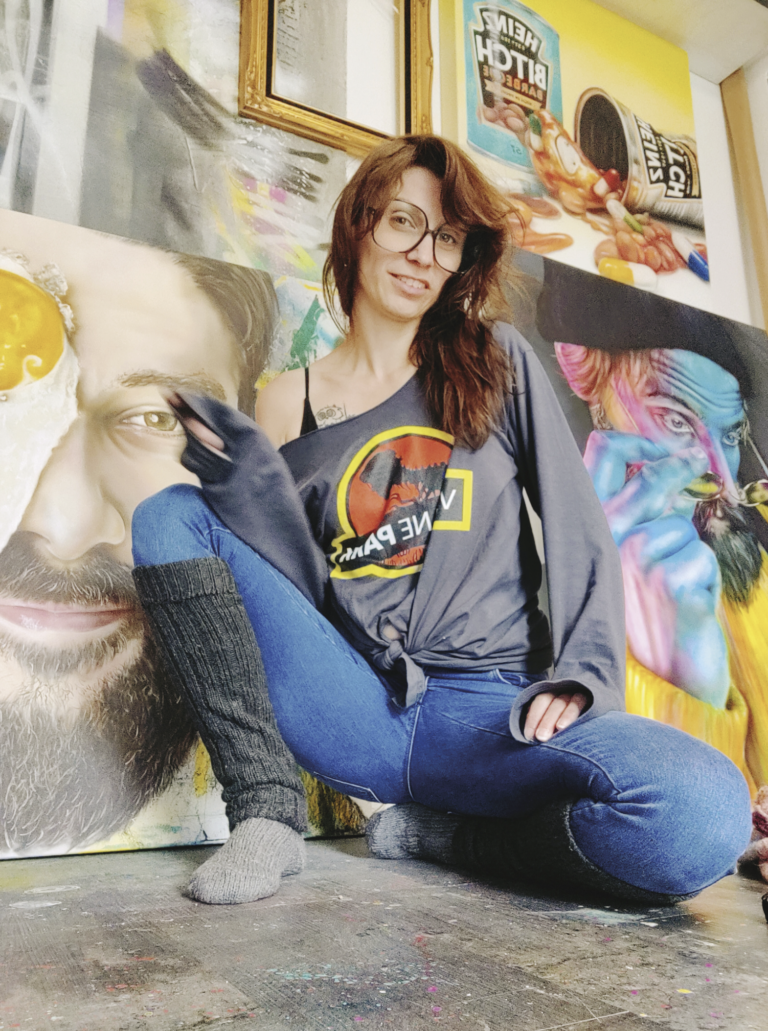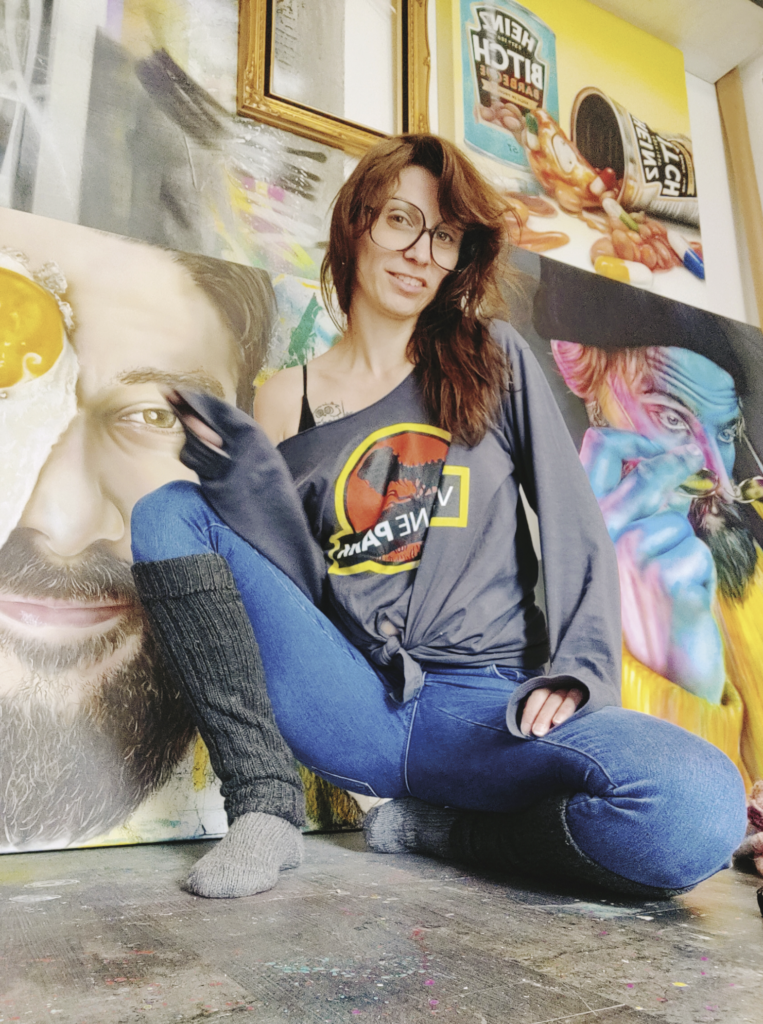 How did you become aware of MOLOTOW and why did you decide to work with us?
Jürgen (CEO MOLOTOW) saw a video on my socials – in the video I complained about the poor quality of the markers I was working with at that time. Then he messaged me and said that I should try out the SKETCHERS. Said, done and because the markers were really good, I then built an airgun for the SKETCHER Markers.
I decided to cooperate for a specific reason: I don't need to tell anyone about quality here, you know that for yourself. I chose MOLOTOW because the company wants to DO it. I always had the feeling that creating is in the foreground. To make hot colors that open up new possibilities for the artist, allow free creative development and simply transport the spirit of street art to other painting techniques. Because – let's be honest: street art is a movement, it's about more than just a can. This is about the art of people who are with people.
Can you please briefly explain the VOLANE ART SKETCHER sets and the composition of the box?
In my previous years as a freelance artist, I have collected one or two followers who are interested in the materials I use and have often been specifically asked about the shades I use for my paintings. So the idea of a small basic pen set with the Volanic shades came about practically by itself. So with the selected colors it becomes volanic. Among other things, you can create an incredible number of skin tones with the selection, which is essential for my works, because I very often incorporate hands into my motifs.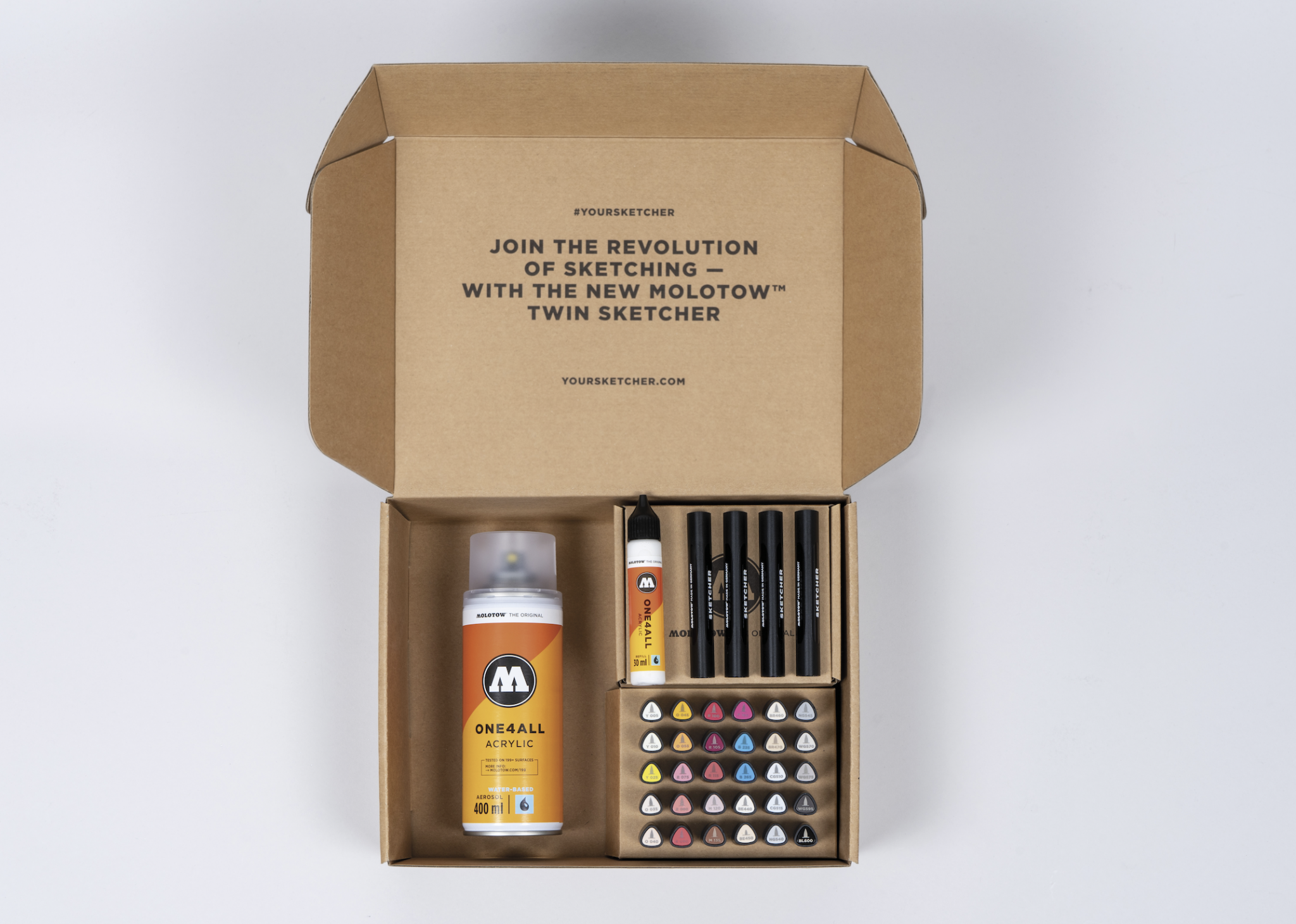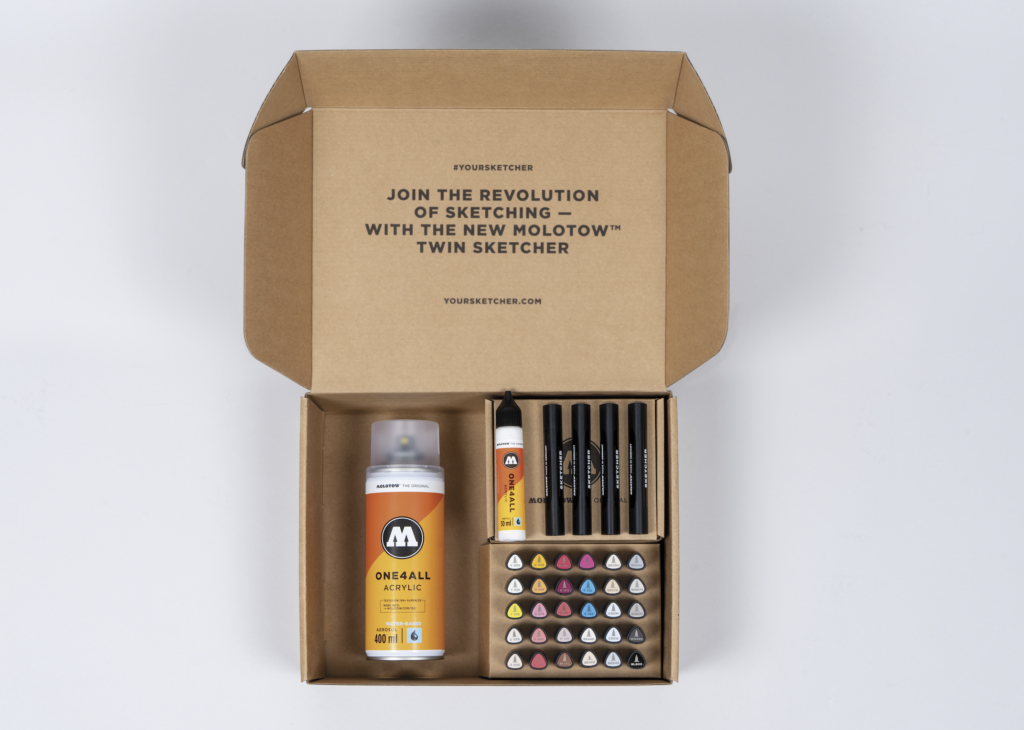 Can you imagine developing yourself stylistically in a completely different direction at some point or do you feel comfortable and "arrived" with your current style.
I would find it very terrible if I wanted to commit myself now. I have absolutely no idea how I will develop my style or by what means I will paint and that's the cool thing about it. Who knows, maybe I'll wake up tomorrow and make chewing gum sculptures all at once. The whole thing is a constant process, a development in which new things are always flowing in and this then results in this flowing form of one's own style.
Thank you very much for the interview and welcome to the MOLOTOW&FRIENDS program, we are very proud to have you with us!
Thanks, I am also super happy to be part of it!